Welcome to the tutorial on Unified Modeling Language (UML).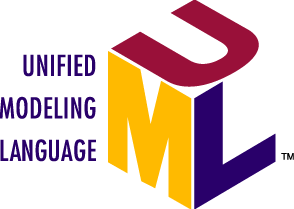 This UML tutorial is strictly for people who have no knowledge of UML i.e., this is strictly for beginners. This tutorial is based on UML specification 1.3 which is a little old version. I am planning to make another tutorial on UML 2.0 in the near future.
This tutorial covers all the concepts in UML 1.3 from a beginner's perspective. All the topics are explained in a simple way and related examples have been given wherever possible.
Note: If you like this UML tutorial, share it with your friends. I will consider it as a token of appreciation from you.
What is Unified Modeling Language?
UML is a visual language for developing software blue prints (designs). A blue print or design represents the model. For example, while constructing buildings, a designer or architect develops the building blueprints. Similarly, we can also develop blue prints for a software system.
UML is the most commonly and frequently used language for building software system blueprints. A visual language represents a language in which we can draw things to represent the knowledge. According to UML specification 1.3, there are 9 UML diagrams.
To the left is a list (menu) of concepts in UML. All these topics are categorized into 4 main categories namely: Introduction to UML, Structural Modeling, Behavioral Modeling and Architectural Modeling. You are advised to start with the first category and move along one after the other to acquire good knowledge on UML.
Topics
Finally, there are a few UML case studies which will help you to get an idea of how to start using UML diagrams to represent the information of a software system.
Case Studies
Rational Rose
Other Useful Resources
Author: Suryateja Pericherla.