Rational rose tutorial:
ROSE stands for Rational Object-oriented Software Engineering.
Rational Rose is developed by Rational Corporation which is under IBM.
Rational Rose is a tool for modeling software systems.
Rational Rose supports UML.
Rational Rose is a tool that supports round-trip engineering means a tool that supports conversion of a model to code and from code to a model.
Rational Rose Interface: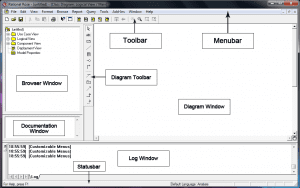 Menubar: The menubar consists of several menus like the file menu, edit menu, view menu etc. All these menus contain several options.
Toolbar: The toolbar contains the most frequently used actions like New, Open, Save etc…
Statusbar: The statusbar at the bottom displays status messages.
Browser Window: The browser window displays the views: Use Case View, Logical View, Component View and Deployment View. Each of these views contains the diagrams.
Diagram Toolbar: The diagram toolbar displays the symbols of the respective type of diagram.
Diagram Window: The diagram window is the place where the user draws the diagrams using the symbols from the diagram toolbar.
Log Window: This window is used to display error messages, warnings and information messages.
Documentation Window: This window is used to display the documentation related to the symbols and other aspects.