A model is a simplified representation of the system. To visualize a system, we will build various models. The subset of these models is a view. Architecture is the collection of several views.
The stakeholders (end users, analysts, developers, system integrators, testers, technical writers and project managers) of a project will be interested in different views.
Architecture can be best represented as a collection five views: 1) Use case view, 2) Design/logical view, 3) Implementation/development view, 4) Process view and 5) Deployment/physical view.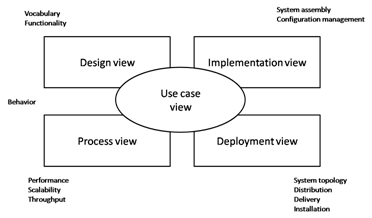 Developed by Philippe Kruchten
The five views can be summarized as shown in the below table: